Tailor made suits for business, weddings, formal and casual events
Sharp cut, impeccable fit, and quality craftsmanship makes the tailor made suit the garment of choice for men of distinction. It has survived fast-fading fashions for centuries to become an iconic symbol of timeless refinement. It is often said that nothing looks better than a man in a well-tailored suit.
Montagio offers tailor made suits in a wide range of fine European fabrics. Our carefully selected line of premium English and Italian wool fabrics is a perfect balance between luxury, quality and value. Each tailored suit is cut according to your specific measurement and style needs. Be it be for business, casual, weddings or other occasions, we guarantee to create suits of uncompromising quality. Each men's suit is individually hand tailored to your precise body measurements and is guaranteed to fit you perfectly.
We offer a wide range of customisable features including more modern slim fits and various lapel designs among many other options. However, for those with a more traditional taste, there is always the option of the elegance of the time-tested, classic tailored suit. Whatever your palate, our tailor made suiting service allows you to customise your own suit's design to match your unique personal style.
SERVICE HIGHLIGHTS
Made-to-measure with perfect fit guarantee
Custom designed with personal styling session
Extensive range of fabrics & linings
Final fitting, drycleaning & alterations included (if needed)
View tailored suits in our showrooms
Tailor made suits from $699 to $2,500+
Below is a small sample of our range - almost any design or look is possible.
Tailor Made
Men's Business Suits & Attire
Tailor Made
Wedding Suits & Attire
Tailor Made
Formal Suits & Attire
Tailor Made
Casual Suits & Attire
Personally tailor made from $699 to $2,500+
.
About Tailor Made Mens Suits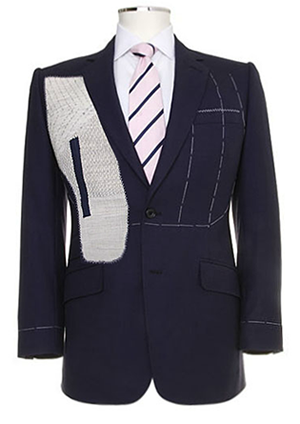 The tailored suit is a big step up from an off-the-rack jacket. This is because mass produced off-the-rack jackets and trousers are created with the average measurements of an entire customer base in mind. For something as sophisticated as a suit which is supposed to hug and flatter your unique body shape, the perfect fit is hard to find off a rack. Because each man is distinct, his suit should be too.

Our tailored suits are made solely for you and so are guaranteed to fit you perfectly. Each pattern is made uniquely to your measurements. Each tailored suit is skilfully cut and constructed by an experienced tailor; a process that requires skill, patience and dedication to quality. Our staff is attentive to your needs and always work with one goal in mind: to give you the best suit you can possibly have. Getting a tailor made suit is not just about the clothes, it is the red carpet experience every man deserves.
Montagio promises quality tailoring at a reasonable price. There is no reason to compromise and settle for a less-than-perfect, off the rack garment. An impeccably tailored suit is the result of great craftsmanship and a must-have in every discerning man's wardrobe.
A little note: Some people might be confused on how a made-to-measure suits, tailored suits, custom suits and bespoke suits differ from each other. Custom suits and tailored suit are usually one and the same. Both begin with a semi pre-designed pattern that is altered according to the client's measurements and style choices. In contrast, made to measure suits are generally made from the closest pattern matching the customers measurements and then altered. Bespoke suits differ mainly in that they start from the ground up with brand new patterns and almost unlimited style control for the client - offering a new category of flexibility with design.