Everybody has a different body shape and off-the-rack suits, jackets and shirts will generally not fit you right. This is where Montagio custom tailored menswear comes in.
We individually hand-craft your garment to your exact body measurements and fit preference, whatever it may be.
Our track record shows that our custom garments fit perfectly first time for 4 out of every 5 customers. This is because many customers do choose to make minor adjustments to get their garments fitting even better. If you wish to adjust your garment, we offer you an Alterations Allowance to help you achieve the perfect fit (see table to the right). We also take care of the alterations process for you, working with local tailors in our building. On the very rare occasion that the garment is unalterable, we will remake it, no questions asked. This is our guarantee. It's all part of the custom tailoring process!
Refer to our alterations policy for more details.
The best bit is that we will also update your measurements that we keep on file. This means we have your ideal specifications and fitting requirements for your next order.
Please note that as custom tailored suits are made to your precise body measurements they may feel "snugger" than suits you may be used to buying off-the-rack, while still being comfortable at rest.
Showroom Clients
For garments purchased at our showrooms, at the time of your final fitting you will be asked by one of our staff if you are happy with the fit. If you are not totally happy, we will follow our our alterations policy to help ensure that you get the result you are after.
Other Locations
Montagio may hold tailoring events at locations other than our showrooms, or you may have purchased from us but are not located near one of our showrooms. If this is the case, your garments will generally be delivered directly to your preferred address. Please refer to our alterations policy for how we deal with alterations in such cases.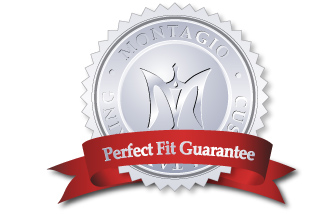 Alterations Allowances
Alterations Allowances apply to your first garment purchase only. These allowances may change at any time and without notice:
| | |
| --- | --- |
| Garment Type | Alterations Allowance |
| 2 Piece Suit | $75 |
| 3 Piece Suit | $95 |
| Ind. Trouser | $35 |
| Ind. Jacket | $40 |
| Ind. Shirt | $25 |
| Ind. Vest | $25 |
Alterations Allowances may vary for garments offered at a discount or via a special deal or promotion. Refer to the individual terms and conditions of offer. Garments offered at no charge do not have an Alterations Allowance.
Do you want to experience the custom tailored difference?