Follow the below instructions to get the most use and longevity out of your new garments.
General Product Care
Suits, Jackets and Trousers
Dry clean only – but only when absolutely necessary (for example if you have spilt wine or food on them).
Immediately remove any spots or stains professionally.
Before you start wearing your new garment, we advise to get your garments professionally pressed. While our garments always come steamed, professionally pressing your garment will give it that extra crisp and clean look. If you would like your garment pressed, just ask us.
Following each wear, brush the jacket lightly and hang it up on a good wide wooden hanger that supports the shoulders.
Leave your garment in an airy environment for at least one day before placing back in your wardrobe or wearing again. It is important that each garment can have at least one day's rest after wearing to assist with longevity.
Avoid carrying overly heavy loads in your jacket pockets, which can strain the pockets.
Be careful not to carry bulging sets of keys in your jacket pockets as these can catch on delicate linings.
Always unbutton your jacket before you sit down.
To keep your garment looking crisp, have it pressed in between cleanings.
Rotate your garments. If you can avoid wearing the same garment every day you will get a lot more life out of it.
If you're storing your garment for a prolonged period, make sure you dry clean it first and use the bag provided. Ensure that the garment is not folded in half when storing for a prolonged period.
Shirts
Cold wash only.
Do not tumble dry.
Dry cleaning is generally unnecessary, but if you have a particularly stubborn stain (like your girlfriend or wife's make-up), then dry cleaning is advised.
If you're going to get your shirts cleaned by a professional, always ask that they be "cold laundered and pressed". These days professional cleaning is inexpensive and many cleaners will cold launder and press your shirts for between $2 to $3 per shirt - a small price to pay to not have to iron.
If you wash your own shirts:


Be sure to use a detergent you know and trust and be sure your washing machine setting is on the "delicate" cycle.
Use only cold or lukewarm water (keep in mind that cooler water can help the business shirt retain its colour and shape).
Before washing, unbutton your cuffs and flip the shirt inside out. If you have a mesh washing bag use that as well.
Leave your shirt to dry on a supportive hangar.
Never put your shirts in a dryer.
Never iron a business shirt that has stains.

If you're storing your business shirts, make sure you wash them before putting them in plastic bags since these can keep bugs and odours from getting in.
Care for Specific Fabric Ranges
This range of fabric uses a Merino wool blend which is not 100% pure wool. Because of the presence of synthetic fibres in the fabric, special care needs to be taken when dry cleaning and steam pressing these garments as excessive heat can cause the garment to become "shiny." Always inform your cleaner that the fabric is not 100% wool before cleaning.
Being pure wool, this range has good resistance to heat and generally does not require any special attention from cleaners. However it is always a good idea to inform your cleaner that your garment is pure wool.
Being pure wool, this range has good resistance to heat and generally does not require any special attention from cleaners. However it is always a good idea to inform your cleaner that your garment is pure wool. Importantly, in this range the higher Super counts mean that while the fabrics are more luxurious they are also more delicate. It is advised that you take care not to snag your garment.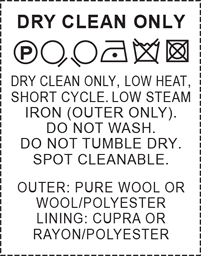 Instructions for all wool and wool blend garments
Linens
Linen fabrics have a coarse weave and are cool to the touch, making them ideal for summer wear. Linens get softer the more they are washed, however, constant creasing in the same place and sharp folds can break the linen threads. This wear can show up in collars, hems, and any area that is heavily iron creased during laundering. Linen has poor elasticity and does not spring back readily, meaning it wrinkles quite easily. Linens require high heat to iron out creases and wrinkles.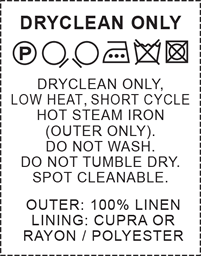 Instructions for all linen garments
Egyptian Cotton
All of our shirts are 100% Egyptian cotton. This makes for a good quality and durable shirt, regardless of range.
Instructions for all 100% cotton garments