Bespoke mens Suits for Business, Weddings, Formal & CASUAL events
A bespoke mens suit with an impeccable fit is a must-have for the modern gentleman. The suit has survived history with centuries to its name and it has come to be a symbol of the modern man's refinement.
Created from scratch, the bespoke designed suit is hand-crafted by to fit the specific needs of the client. The bespoke mens suit is the highest quality suit a man could buy. Each suit starts from an original pattern made just for you and the result is a most perfect fit.
At Montagio, we offer the best aspects of a full "bespoke suiting service" with all of our suits cut from unique patterns and a full set of measurements taken. We offer an extensive range of bespoke tailored men's suits for all occasions including business, weddings, formal and casual wear. Each men's suit is individually hand tailored to your precise body measurements and is guaranteed to fit you perfectly.
At Montagio, there will be fewer fittings compared to the 5 or more required for bespoke tailoring. This will help keep the process simple and convenient and keeps our prices reasonable. Any small inaccuracies that may arise can be simply fixed via alteration. To begin the process, you can browse through our selection of top-notch English and Italian fabrics; a wide range in luxury and value.
Visit our Sydney store for your personal fitting or obligation free style session
OR PHONE 0290450508

SERVICE HIGHLIGHTS
Made-to-measure with perfect fit guarantee
Custom designed withpersonal styling session
Extensive range of fabrics & linings
Final fitting, drycleaning & alterations included (if needed)
View our suits at our showrooms
Bespoke tailored suits from $99 to $2,500+
Below is a small sample of our range - almost any design or look is possible.
Bespoke Tailored
Men's Business Suits & Attire
Bespoke Tailored
Wedding Suits & Attire
Bespoke Tailored
Formal Suits & Attire
Bespoke Tailored
Casual Suits & Attire
About Bespoke Made Suits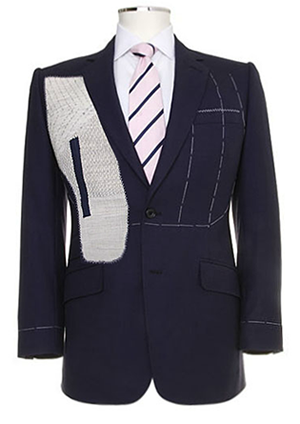 Bespoke suits are made via the most meticulous the time-honoured processes in tailoring. Unlike tailor made suits, the bespoke mens suits start from a new pattern designed specifically to your size and specifications. The fabric is cut to your specific measurements, and then hand stitched. This is what makes a bespoke made suit bespoke. If any tailor claims to be making you a bespoke tailored suit without this stage, then it is not a bespoke tailored suit.
Bespoke also means that each and every minor detail on is under your control. From pocket positions, to buttons, stitching, lapels, pocket trims and so on… the bespoke garment is the grand sum of a multitude of minute, yet discerning style decisions.
While a tailor made suit will require one to two fittings, the bespoke version can easily require more than five. The unparalleled dedication to quality put into the creation of bespoke mens suits turns them into coveted luxury items. Thus they are not for the feint-hearted, or those with tight purse strings. Indeed, a true bespoke mens suit can easily cost upwards of $4,000 for a two-piece ensemble.
To the letter of the Saville Row law, Montagio does not offer bespoke suiting per se, rather we offer a great "bespoke suiting" experience for a much more reasonable price. Called "custom tailoring", it is a hybrid between classical bespoke tailoring methods and more mainstream production. The suits are still made from unique patterns cut specific to you. However, there is a limit to style and shape customizations, limiting the complexity of pattern design and cutting. This keeps the price reasonable and makes the whole process much simpler. Despite this, the end quality of the suit, the fit and construction is guaranteed to remain outstanding.
The first step to a great fitting suit is the selection of materials. With our in-house offering of the finest imported European wools, you are offered a selection of luxurious and long-lasting fabrics. If you need a new suit for the office or just want one to complete a wardrobe, Montagio's custom tailoring service is a great choice.
Each suit will be hand-made by expert tailors. As every man is unique so should each suit be. Let our staff guide you in selecting a design and fit that will compliment your personal style, and will enhance your look at all occasions.