Custom Made Suits for BUSINESS, WEDDINGS, FORMAL & CASUAL EVENTS
Do you wanting to give off a great first impression? Not a problem. We guarantee you that our perfectly-fitted custom suits will give you just that.
Each custom made mens suit is uniquely cut and hand made for each client. We offer an extensive range of custom tailored men's suits for all occasions including business, weddings, formal and casual wear with each suit being tailored to your precise body measurements and guaranteed to fit you perfectly.
The custom suit gives you a wide variety of options to choose from. Features such as the fit, lapel design and buttons can be choses to accommodate your own styling preferences.
For your convenience, we also have an assortment of high quality fabric you may choose from. Our selection of fine English and Italian wool fabric can accommodate any budget and gives great value for money at all price points.
A perfectly cut custom made men's suit is the choice of the gentleman who knows what he wants.
SERVICE HIGHLIGHTS
Made-to-measure with perfect fit guarantee
Custom designed withpersonal styling session
Extensive range of fabrics & linings
Final fitting, drycleaning & alterations included (if needed)
View custom made suits at our showrooms
Personally custom tailored from $699 to $2,500+
Below is a small sample of our range for you to browse. But remember, almost any design or look is possible.
Custom Made
Men's Business Suits & Attire
Custom Made
Wedding Suits & Attire
Custom Made
Formal Suits & Attire
Custom Made
Casual Suits & Attire
Personally custom tailored from $699 to $2,500+
AboutAbout Custom Made Suits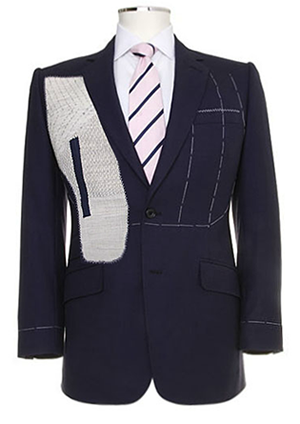 NOTE: This page has been created as there is much confusion about the different types of mens suiting options available in the marketplace today. For a comprehensive comparison of your options visit The Definitive Guide to Men's Suit Tailoring Options. Below is a summary related to custom tailored men's suits.
Each Montagio custom tailored suit is carefully handcrafted to the highest standards of tailoring. Unlike off-the-rack options, custom suits accommodate a wide variety of design options and come with the added guarantee of a great fit.
Upon taking your measurements and arriving at a final design, our expert tailors will create your suit's pattern. These patterns are unique for each customer and are accurately crafted to achieve the best possible fit for your body shape.
After the pieces are cut from the desired fabric, the process of construction begins. Custom made suits are handcrafted by our expert tailors for the highest quality garment. Your custom tailored suit will come with a luxurious finish and guaranteed durability.
Many people use the terms "custom tailored", "bespoke", "made-to-measure" and "tailored" interchangeably but these terms differ from each other.
For example, bespoke tailored suits remain the most customisable type of tailoring with the customer able to choose from an almost endless array of options regarding the suit's style and design. This comes at a hefty price tag as the process starts from the ground up and requires more fittings, more attention to detail and much more work from all involved.
On the other hand, custom tailored, like bespoke tailoring, is also highly customisable. This type of tailored suit starts from an original pattern drafted just for you, but because it has more limited options for customisation, custom made suits require less fittings and therefore remain more affordable. We tend to think that this is a great middle ground for those men looking for a custom fitted, custom designed suit without the added costs and hassles.